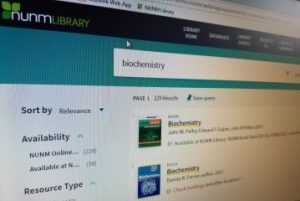 When you search the library catalog for the first time this term, you may notice some changes. Our new user interface has a fresh, modern look and is more user friendly.
Start your search on the library homepage, as usual. On the search results page, you'll see a new navigation menu that puts important options right at your fingertips.
If you log in to your library account, you will be able to easily see and renew the items you have checked out, as well as track fines and requests. You also have the option to save items to your Favorites for later. We'll be happy to give you a tour of the new interface any time — just ask!