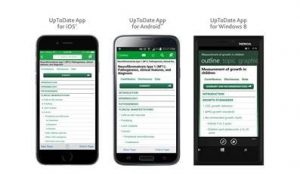 The UpToDate app now works with our institutional subscription. Setup is fast and easy, so give it a try today!
Access UpToDate from the library website while ON CAMPUS and set up an account. Use the Log In/Register link in the upper right.
You will receive an email with instructions on how to download the app and get started.
In order to maintain uninterrupted access to UpToDate Anywhere, you must re-verify your affiliation with your organization once every 90 days. To re-verify, log in to UpToDate from a computer connected to the NUNM campus computer network.
Questions? Problems? Contact the library staff.